The temperature in Hong Kong dropped quite a bit last week which definitely called for plenty of soup, pie and casserole meals.  Even though we need no excuse to eat pie, this week is officially British Pie week so I thought I'd resurrect one of my earlier posts,  Leftover Chicken Pie.

Leftover Chicken Pie
Leftover Chicken Pie is generally made of whatever chicken meat is left over after a roast chicken dinner.  However, I have to admit, these days we are having to roast two chickens to ensure we have enough leftover chicken meat for another meal.
Method:
Start by removing any bones and skin from your leftover chicken pieces. Remove the skin from the sausage and roll the sausage meat into small balls in the palm of your hand.  Chop your leftover vegetables if you have any, otherwise leeks or mushrooms will do nicely.
Lightly fry the sausage till golden brown in olive oil.  Put aside on a plate lined with kitchen roll. Sautee the leeks (if using) and mushrooms in the same pan you browned the sausages in.  Set aside to cool and start on the sauce.
The Roux:
Begin making a basic white sauce.  Melt the butter in a small saucepan and mix in the flour and cook for at least 1 minute to form a roux. Gradually add the stock little by little, stirring all the time, until you have a sauce the consistency of single cream. If you warm the stock before adding to the roux it will make this process a whole lot quicker.  If you'd like some step by step photos of the roux making process you can check out my recipe for Spinach & ricotta cannelloni.
Once all the filling ingredients are ready add the meat and vegetables to the sauce, combine well, add the chopped parsley, salt and pepper.
For the Pastry:
Now start to roll out the pastry.  If I'm making my own pastry I always double the quantity and freeze a batch for later use.  Here is a simple to follow short crust recipe.  If you don't have time or any to hand you can just buy some.  I often use bought and ready rolled, shortcrust or flaky pastry, they both work well and both readily available from the supermarket here in HK.
Roll out the pastry to about 5mm in thickness, dampen the edge of your pie dish with water, milk or a mix of beaten egg and milk and line the edge with a strip of pastry.
Dampen the top of the pastry strip and  lay the sheet of pastry over the top.
Press along the edges with the back of a fork or your thumb and index finger to seal.
Make a couple of cuts in the middle, to release the steam.  Brush the top of the pie with the remaining egg wash, which will give it a lovely golden colour.
You can now just keep the pie in the fridge until ready to cook (you can prepare this the day before) or place in a heated oven at 200C for about 30-40 minutes.  Check the filling is piping hot (you will see gravy bubbling out of those central cuts) and the crust is a lovely golden brown.
Serve with more greens of your choice and mashed potato.

Pies really are quick and easy meals and a piefect way to use up any leftover meat and veg!
Sharing is caring. If you like this recipe share it with your friends.
Have a question or comment? Drop me a line below.
Feeling generous? Give it a star rating.
P.S. Don't forget you can follow me on INSTAGRAM  for behind the scenes action or PINTEREST for lots more recipe inspiration!
gx
Linking up with the #CookBlogShare Week 10 hosted by EasyPeasyFoodie & Highjacked by Twins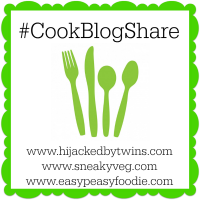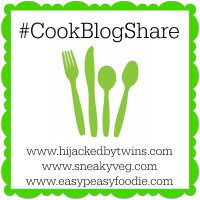 Leftover Chicken Pie
A deliciously satisfying way to use up your Sunday roast chicken leftovers.
Ingredients
400

g

Chicken

Previously Cooked

400

g

Sausage

Preferably Fresh Italian, but any good quality sausage will do

Parsley

chopped

200

g

Mushrooms

1

leek

medium

400

g

Pastry

Short Crust or Flaky are good

400

g

Chicken stock

if you have a bottle of white wine open then you can replace 100ml water with white wine

40

g

Plain Flour

40

g

Butter

Parsley

chopped

Salt & Pepper to season
Instructions
For the Pie filling:
First debone and take the skin off all your leftover chicken

Remove sausage skin and roll into small balls in the palm of your hand.

Fry the sausage balls until golden brown. Put aside on some kitchen roll.

Fry the mushrooms and / or leeks in the fat from the sausages. Put aside.

Make a roux with the butter and flour. Add the warmed chicken stock a little at a time.

Keep stirring until all the stock has been used up and you have a sauce the consistency of a single cream.
For the Pastry:
Roll out your pastry on a lightly floured surface, to around 5mm in thickness.

Cut a 2cm strip of pastry.

Dampen around the edge of your pie dish with water, milk or an egg mix. I use a beaten egg with a dash of milk.

Stick the strip of pastry around the edge of your pie dish and then dampen this too.

Lay the sheet of pastry over the top and press down with the back of a fork or pinch with your thumb and index finger.

Trim off any excess pastry and you can make some fancy decorations to go on top if you are feeling artistic.

Bake the pie for 30-40 minute at 200C, or until the pastry is golden brown and piping hot in the middle.

Let it stand for 5-10 minutes before serving with greens of your choice.
Recipe Notes
if you are making the pastry yourself, make sure you make double and freeze. Then you can make a pie at the drop of a hat the next time you have lots of leftovers to use up.
Nutrition Facts
Leftover Chicken Pie
Amount Per Serving
Calories 751
Calories from Fat 486
% Daily Value*
Fat 54g83%
Cholesterol 88mg29%
Sodium 760mg33%
Potassium 476mg14%
Carbohydrates 40g13%
Protein 24g48%
Vitamin A 510IU10%
Vitamin C 3.5mg4%
Calcium 27mg3%
Iron 3.7mg21%
* Percent Daily Values are based on a 2000 calorie diet.