The strong monsoon signal was hoisted by the weather department, a cool wind was gathering intensity and the threat of a downpour was imminent.  Today was the perfect soup making day and so I set about making this soul warming Spicy Roast Red Pepper and Tomato Soup.
Spicy Roast Red Pepper and Tomato Soup
In fact I didn't just make one soup but two delicious, soul warming soups.  I had the oven going so I decided to roast two lots of vegetables and make two very different but equally delicious soups.  As well as this Spicy Roast Red Pepper and Tomato Soup, in a separate tray I roasted Aubergines, Carrot, Sweet Potato, Onions and Garlic to create a Spiced Roast Winter Veg Soup.
This Spicy Roast Red Pepper and Tomato Soup got a BIG thumbs up from my eldest daughter  – who ate it for dinner and was still raving about it over breakfast this morning –  that I decided to write this one up first.
 Spicy Roast Red Pepper and Tomato Soup: The Inspiration
This Spicy Roast Red Pepper & Tomato Soup is a truly soul warming meal. I took inspiration from this recipe and made my own adjustments to ensure the flavours were  just as I wanted. That is, bold in colour, soul warming with intensely deep flavours.  A soup, where, spoon after spoon, your taste buds ignite and tingle with excitement in anticipation of the next spoonful.
Instead of using sun dried tomato paste I soaked a few sun dried tomatoes in boiling water and in addition to the chilli flakes I added smoked paprika.  I think the smoked paprika just rounds it off perfectly with it's deep, smoky, warmth. 
Paprika does not have the same blow-your-socks-off heat effect, as does, say a cayenne pepper or dried chilli flakes…. Instead, it gives your dish a warming, agreeable heat with a smoky profile.  There are many varieties of paprika, the Spanish, sweet paprika, dulce, is the sweetest and mildest.  The brand I've always used is La Chinata, which I've been bringing back from the UK every Summer, but thankfully I've now seen it here in the major  Hong Kong supermarket chains.
Success also lies in roasting the vegetables, which greatly intensifies their flavours. The chilli flakes provide a decent kick and the smoked paprika brings it all together with it's unique, sweet, smoky intensity.  The sun dried tomatoes and tomato puree give it added richness and depth.  Heating the chilli flakes and paprika unlock their naturally intense flavours (be careful not to overcook the paprika as it can easily burn).

I served our Spicy Roast Red Pepper and Tomato Soup with a swirl of creme fraiche, a drizzle of olive oil and a small sprinkle of flaked chilli flakes. And of course we had a beautiful hunk of Traditional Irish Brown Soda Bread, which was a recipe given to me by the mother of a very good friend of mine.
We think this recipe is a keeper and hope you will too!
Sharing is caring. If you like this recipe share it with your friends.
Have a question or comment? Drop me a line below.
Feeling generous? Give it a star rating.
Feeling creative? Take a photo and share it with me over on INSTAGRAM and tag it #gillianskitchendotcom.
gx
Linking up with the #CookBlogShare Week 9 hosted by EasyPeasyFoodie & Highjacked by Twins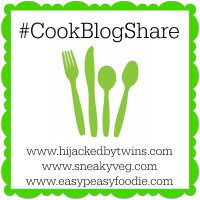 Spicy Roasted Red Pepper & Tomato Soup
A soul warming Spicy Roasted Red Pepper and Tomato Soup,
bold in colour with intensely deep, smoky flavours. Served with a Traditional
Brown
Irish Soda Bread.
Ingredients
3

red peppers

halved & de-seeded

500

g

Cherry Tomatoes

1

white onion

quartered, not peeled

2

stick of celery

sliced and chopped

3

cloves

of garlic

whole with skin on

4

in

sun dried tomatoes

soaked in boiling water

1

lt

vegetable stock

I use marigold bouillon

2

tbs

olive oil

2

tbs

tomato pureé

1

tsp

smoked paprika

1/4

tsp

chilli flakes

20

g

butter

salt & black pepper
Instructions
Pre heat oven to 200C. Place the pepper, onions, tomatoes & garlic cloves into a baking tray. Do not crowd them. Drizzle with a little olive oil and roast for about 30 mins or until the vegetables are tender.

Soak your sun dried tomatoes in a cup of boiling water for for at least 10 minutes. Once soaked chop and set aside. Reserve the liquid.

Melt the butter in a large pan over a medium heat and sauté the chopped celery for 4-5 mins.

Add the smoked paprika, chilli flakes and tomato pureé to the pan with the celery and cook for 1 minute. Be careful not to burn the spices.

Add all the roasted vegetable to the pan with the celery and spices.

Add the hot stock and bring to the boil then let simmer for a few minutes.

Blend using a stick blender, until velvety smooth.

Season to your taste with salt & freshly ground black pepper.

Delicious served with Irish soda bread (see recipe within post)
Nutrition Facts
Spicy Roasted Red Pepper & Tomato Soup
Amount Per Serving
Calories 175
Calories from Fat 104
% Daily Value*
Fat 11.6g18%
Cholesterol 10.8mg4%
Sodium 54.7mg2%
Carbohydrates 16.8g6%
Protein 3.2g6%
Vitamin A 1400IU28%
Vitamin C 188.1mg228%
* Percent Daily Values are based on a 2000 calorie diet.